The Great Queen SeonDeok
The Great Queen SeonDeok is a Korean historical drama that follows the rising of the first female ruler in an ancient Korean kingdom called Silla. The show combines action, romance, humor, and intrigue as it follows Deokman on her journey of becoming Queen SeonDeok and ruling over her people.
Deokman (Queen SeonDeok's name at birth) was born a twin and abandoned by her family shortly after her birth. Her father, King Jinpyeong abandons Deokman to protect her from a royal court lady, Mishil, who wants to steal the throne from her. Her adoptive parents bring her up in the deserts of China where she is oblivious to her royal status.
Years later she returns to Silla and teams up with her twin sister Chonmyong against Mishil who wants both girls dead so she can control the kingdom. Mishil eventually kills Chonmyong which causes Deokman to want revenge. Mishil ends up committing suicide so she can save her pride and not be killed by Deokman.
Along the way she is guarded by the loyal Kim Yushin and falls in love with Bidam who is actually Mishil's son. Bidam is a cruel, sly man although he is protective and kind to his love Deokman and helps her become Queen SeonDeok. In the end, Bidam asks to be killed as her thinks his true love the Queen has betrayed him.
This Korean drama is full of suspense, action, and political intrigue as it follows the many achievements and adventures of the beautiful queen who gives up her love so she can save the people of her kingdom. The Great Queen SeonDeok has won many awards and has consistently stayed at the top of the ratings since the very first show aired.
1 Season,

62

Episodes

May 25, 2009

/

10

Cast:

Woong-in Jeong, Jeong-hyeon Kim, Dam Ryu, Yo-won Lee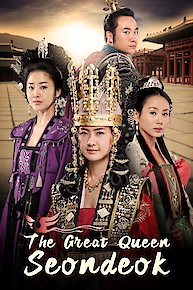 The Great Queen SeonDeok Full Episode Guide
Bidam lays siege upon the capital, but when he learns the truth of Deokman's betrayal, he seals his doomed fate.

A misunderstanding breaks the fragile trust between Deokman and Bidam, and the palace undergoes a second military coup.

Conspiracies surround Bidam, prompting Deokman to send Bidam far from the capital until the furor dies down.

Bidam's supporters betray him in the hopes that he will break his engagement off with Deokman and claim the throne for himself.

Bidam and Deokman announce their plans to marry, but there are many nobles who are against it.

Yushin figures out the Baekje's strategy. Despite Bidam's concerns, Deokman refuses to leave the capital.

While the army loses to the stronger Baekje forces, Deokman and Chunchu make a secret deal with the Bokya.

Yushin's information is deemed faulty and that places greater pressure on Deokman to execute him. Meanwhile Bidam tries to secure Deokman's heart.

While Bidam tracks down the Bokya, Yushin is sent on a private mission to spy on the enemy kingdom of Baekje.

The balance of power is threatened as Bidam tries to bring about Yushin's fall from grace.

Years into Deokman's reign, the Internal Affairs under Bidam begin arresting suspected traitors that are linked to Yushin.

Following Mishil's death, Deokman must regain the loyalties of her followers, but Bidam also has plans of his own.

Deokman offers a peaceful alliance, testing Mishil's will to continue fighting for her dream.

With every intent on having Silla for herself, Mishil escapes with her loyal band of soldiers and starts a civil war.

Deokman gives herself up to Mishil but calls for a public trial for her supposed crimes.

An attack on Deokman's hideout brings tragic consequences for both sides, compelling Deokman to return to the palace.

Mishil orders a state of martial law and for Deokman to be captured and killed. Deokman's supporters are tortured into revealing her location.

Deokman and Chunchu struggle to escape the palace to avoid Mishil and her troops.

Deokman's plans to overthrow the council forces Mishil to make a drastic, risky move.

Chunchu joins Deokman as they try to divide the nobles and bring them over to her side.

Misil takes a vacation, despite the turmoil within her camp, and returns with a stronger resolve to become queen.

Chunchu becomes Deokman's main rival for the throne as his true motives are revealed.

Deokman learns the hard way on what it takes to be an effective ruler for her people.

An agricultural crisis caused by Misil brings Deokman into a battle of economics with her.

Yushin marries into Misil's family and a tragedy brings Bidam back into the Hwarang.

Misil finds evidence against Yushin that could prevent him from becoming a Grand Marshal, and affect his loyalties.

Yushin must defeat Chilsuk to become a Grand Marshal. Deokman and Chunchu meet for the first time.

The final duel for the Grand Marshal is set, and Chunchu, Princess Chunmyung's son, returns from China.

Bidam learns about his identity while Yushin prepares to win the tournament and become Grand Marshal.

The Grand Marshal tournament begins, and the second question leads Deokman to discover a secret about the royal kings and Misil.

Munno makes a surprise return to the palace to oversee the Grand Marshal competition.

Deokman's decision to release the almanac to the public is met with some consternation even among her supporters.

The royal house acknowledges Deokman as the lost daughter and crowns her as princess, and heir to the throne. Immediately, she makes her first decree as a princess - to build an astronomy tower.

Deokman uses Bidam and Yushin to trick Misil into believing that an eclipse will happen.

Ill omens begin to appear around the palace. Deokman tries to extract information from a mystical monk that can help her return to the palace.

A public announcement is made that threatens the position of Queen Maya and King Jinpyeong. Meanwhile, Yusin must deal with a threat against his family from his own people.

With the death of Chunmyung, Deokman plans to take revenge and earn her rightful place in the royal family.

Hwarang Daenambo is sent to kill Deokman, but a case of mistaken identity leads to the wrong person getting killed.

Yushin, Deokman, and Bidam form an unlikely alliance against Mishil's soldiers. Chunmyung searches for Deokman with Alchun and other Hwarang guards.

Yushin's father is on the hunt to kill Deokman, and Bidam's allegiances change.

Yushin and Deokman go on the run as everyone in the palace realizes who Deokman is. Bidam, Mishil's secret son, appears.

Deokman learns about her true identity.

Chunmyung tries to send Deokman far from the palace and away from Mishil. Though unable to meet with the king, Deokman pursues a meeting with Queen Maya.

A theft among the Hwarang nearly forces Deokman to reveal her true gender, but Chunmyung's own questions and investigations lead her to learning the truth.

Through Mishil, Deokman is one step closer to finding out her true identity. She attempts to meet with the king to answer her questions.

Using the almanac to her advantage, Mishil makes a prediction to manipulate the royal court. She attempts to bring Yushin over to her side.

Mishil attempts to discredit Deokman in front of Yushin and Chunmyung, but is thwarted. Instead, Deokman manages to get close to Mishil and spy on her for Chunmyung.

The Sadaham Plum Blossom turns out to be an almanac. As Deokman tries to spy on Mishil, she discovers the true fate of Chilsuk.

Deokman discovers Chunmyung's true identity. Mishil's background is revealed and the source of her power is suspected to arrive at the palace through a foreign trading delegation.

The Hwarang are rewarded for their achievements in battle. Deokman is arrested under suspicion of trying to assassinate Yushin's father.

Deokman survives an attack, but for Silla to win, Yushin's battered troops are forced to face the enemy once again, alone.

The battle to protect Silla begins, and Yushin's troops are badly beaten.

Deokman struggles with Hwarang training. The Hwarang prepare for an upcoming battle.

Deokman is arrested and brought to the palace, but Chunmyung intervenes and assigns her to be part of the Hwarang.

Chunmyung returns to the palace, and she brings in Kim Yushin to become part of the Hwarang in the palace.

Chunmyung encounters Deokman and mistakes her for a boy. Deokman believes Chunmyung is a nun and saves her life.

After her husband's death, Princess Chunmyung leaves for the countryside to give birth to her son and keep him far from the reaches of Mishil.

Deokman displays her wits against a Chinese official. Lady Mishil's personal guard Chilsuk finally tracks down Deokman as the twin, and attempts to kill her and Sohwa.

Fifteen years later, Deokman lives a life of a merchant with her mother Sohwa. King Jinpyeong's line of male heirs comes to an end.

King Jinpyeong and Lady Maya have twin daughters, forcing the king to send the younger daughter away with the maid Sohwa before Mishil can get her hands on the girl.

Court Lady Mishil seduces the kings of Shilla to gain enormous power and influence over the royal court, but a prophecy regarding twins promises her eventual downfall.
If You Like The Great Queen SeonDeok, Then Try...