Watch Children of Men
---
"The future's a thing of the past."
The Children of Men is a 2006 film based loosely upon P.D. James' novel of the same title. Released September 22nd in the UK it grossed over 1 million pounds opening weekend. It released on Christmas day in America and went on to gross over 68 million worldwide. This film has received a great deal of critical acclaim leading to multiple nominations including 3 Academy awards, 3 BAFTA awards - two of which it won (Best Cinematography and Best Production Design), and over 34 other nominations. Out of those it won and/or placed in half giving it 20 awards.
The year is 2027 and humanity is infertile. Most of the world has collapsed, however Britain remains an oasis of stability. This has led to an influx of refugees resulting in a police state whose draconian immigration laws lead incidents of horror. In this situation a pregnant woman is entrusted to the care of Theo Faron played by Clive Owen. This woman, a West African refugee played by Clari-Hope Ashitey, must be delivered to a ship entitled "Tommorrow" to save humanity. Unfortunately both the Government and the Rebels are working against them.
Directed by Alfonso Cuaron (Y Tambien Tu Mama, Harry Potter and the Prisoner of Azaban) this film includes the talents of Clive Owen (who holds a writing credit for the film), Michael Caine as Jasper, and Julianne Moore as Julian (Faron's estranged wife). Filmed in a style similar to a documentary this 109 minute film is rated a strong R for explicit violence, frequent language, some drug usage, and instances of nudity. It should be noted that there is a birth scene and while shadowing is provided the baby can be seen to emerge from the labia. This movie is rated 84/100 on metascore, and with a firm 83 on metacritic.com which holds it as the 11th best ranking movie of the 2000s. Rotten tomatoes has it marked as 93% or fresh.
|
2006
|
1 hr 49 min
|

/

10
Cast

Studio

Director

Alfonso Cuaron

Language

English
More Like Children of Men
SUBSCRIPTION
RENT / BUY
CABLE
Children of Men News
Rapture Movie Fest: 5 Post-Apocalyptic Movies to Watch Before the Apocalypse
May 20, 2011 @ 1:03 pm PST
|
According to the alarmist Family Radio group, the Rapture will hit us tomorrow. Some might choose to take their remaining time on Earth and spend it with their families, but here's a better idea: watch a marathon of movies set in post-apocalyptic worlds!
Read More

'Iron Man' Writers Hired for 'Tomb Raider' Reboot
May 05, 2011 @ 2:48 pm PST
|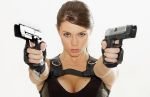 Good news for those who are excited about the "Tomb Raider" reboot! The rest of you can continue about your business. GK Films has just hired Mark Fergus and Hawk Ostby, who wrote "Iron Man" and also win the award for Most Oddly-Named Writing Duo, to pen the script for the new "Tomb Raider" movie. Those who saw "Iron Man" will know why this is such good news: the team put together an impressive script for the first film, featuring snappy dialogue, a simple yet involving story, strong characters, and a fascinating origin.
Read More


Watch Children of Men Trailer

Children of Men Official Trailer #1 - Julianne Moore, Clive Owen Movie (2006) HD
|
2:27

Watch Children of Men Online - Watch online anytime anywhere: Stream, Download, Buy, Rent
Children of Men is currently available to watch and stream, download, buy, rent on demand at Showtime, Amazon Prime, Amazon, Vudu, Google Play, iTunes, YouTube VOD online.